A statement in luxury, Signature is a mélange of elegant materials that have been finely crafted into furniture with regal style. Throughout the collection are dramatic statements for living rooms, dining rooms, studies, sitting areas, entertainment rooms and bedrooms in highly-polished finishes, unique woods, majestic gold metals,indulgent leathers and sumptuous fabrics. At once refined and aristocratic, Signature is a bespoke collection for international connoisseurs of high design.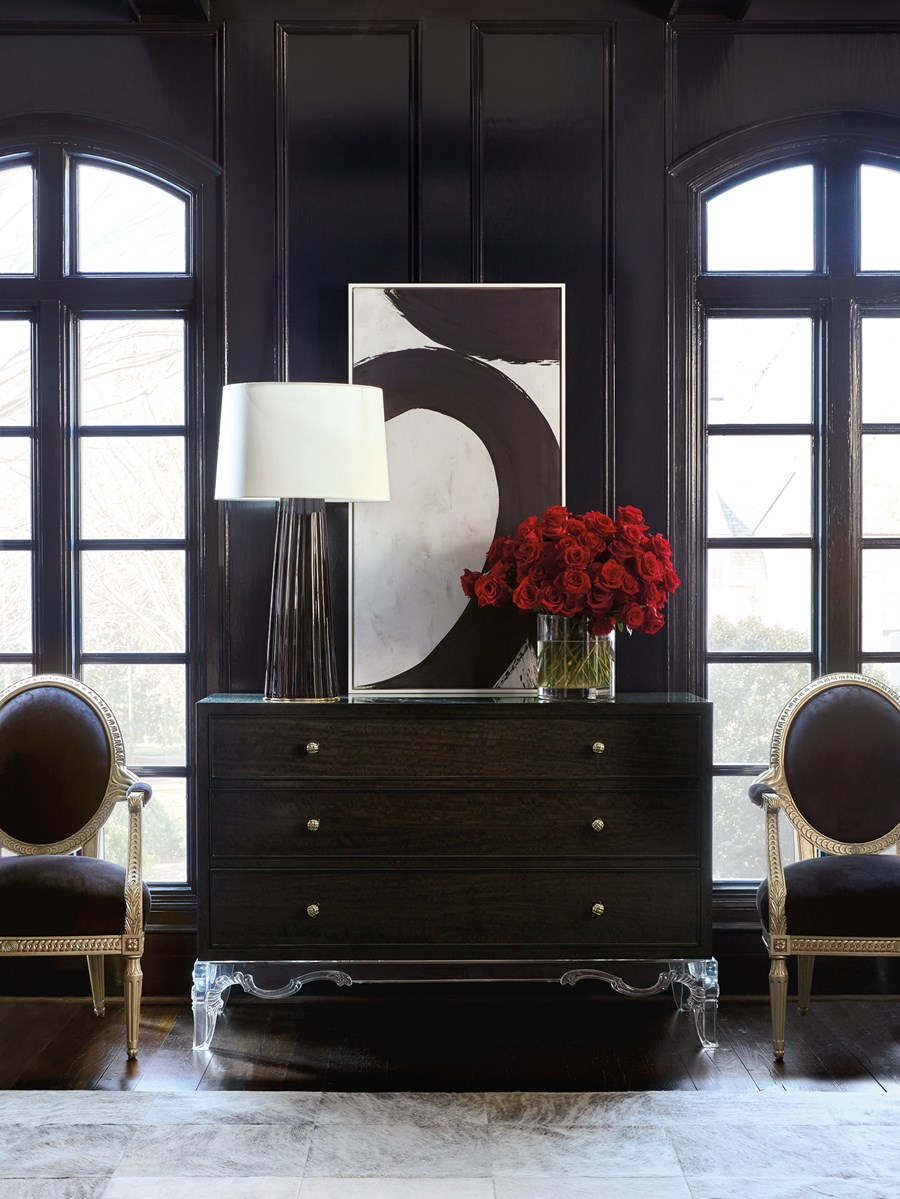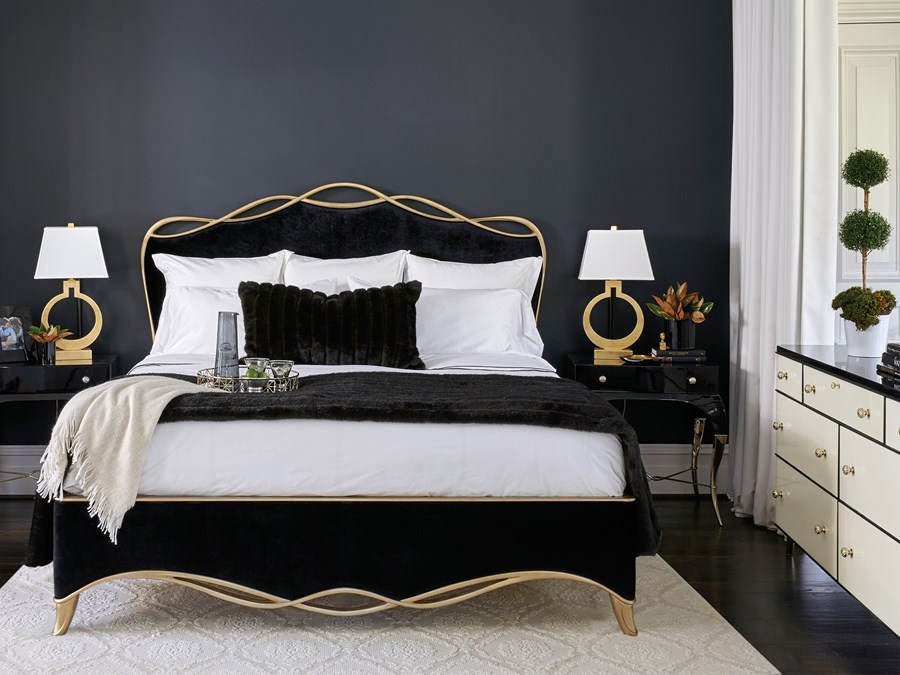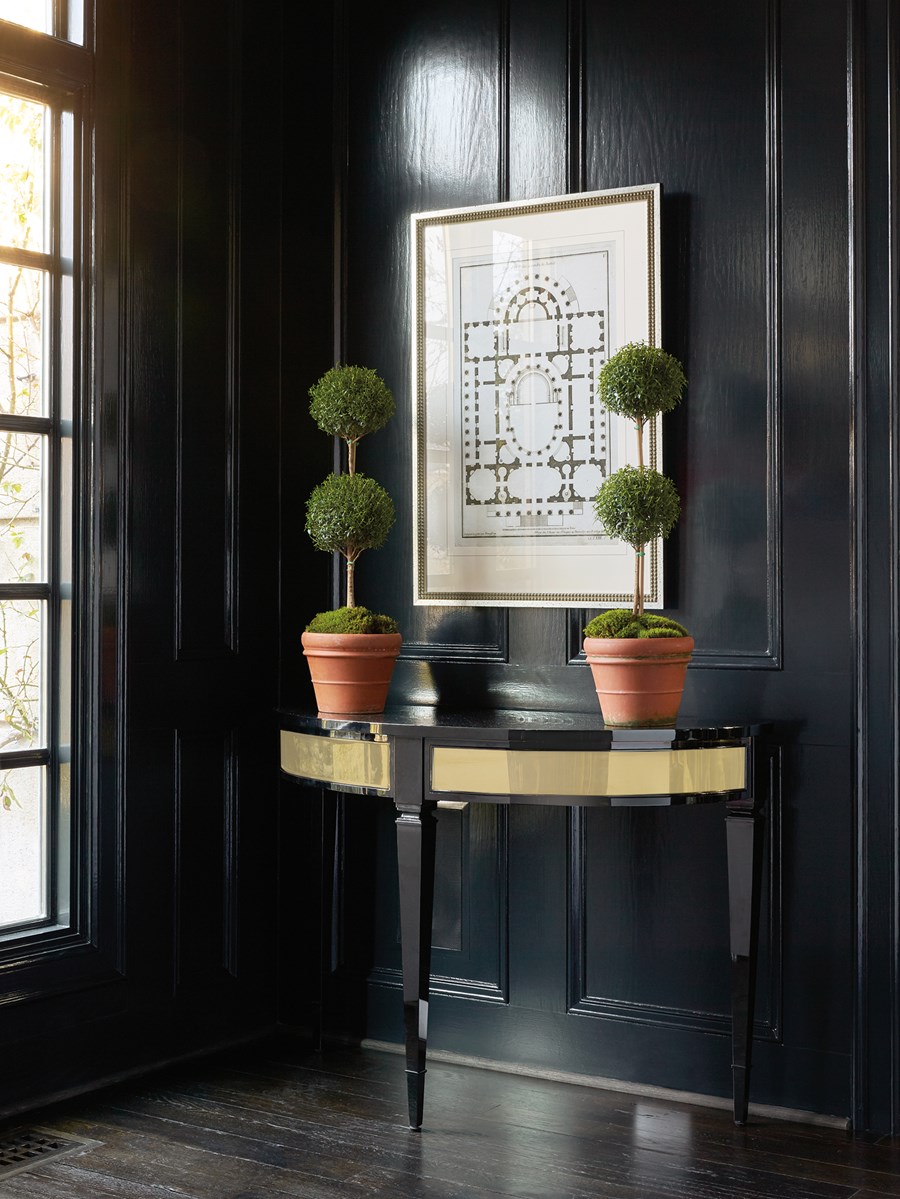 Sitting Pretty, Inc – An Authorized Caracole Signature Furniture Colleection Dealer
Like what you see? Call us or email us with the product name and info and we'll begin the ordering process for you or even better yet, come on into our massive Reseda, California showroom and we can help consult for you or design for you in person!
(818) 881-3114
Mon. – Sat 10 am–6 pm
Sunday: 11 am–5 pm
the contempo king bed
SIG-017-124
82W x 87D x 66H
available in Queen, King and California King
the contempo king bed
SIG-017-121
82W x 87D x 54H
available in King
the ribbon bed
SIG-416-123
85.25W x 86D x 65H
available in Queen, King and California King
the ribbon bed
SIG-416-124
85.25W x 86D x 65H
available in Queen, King and California King
The Aristocrat Nightstand
SIG-416-063
38.5W x 18D x 29.75H
The Aristocrat Nightstand
SIG-416-064
38.5W x 18D x 29.75H
The Parisian Nightstand
SIG-416-061
29.5W x 21.75D x 29.75H
The Parisian Nightstand
SIG-416-062
29.5W x 21.5D x 29.5H
The Simpatico Nightstand
SIG-017-063
40W x 18D x 29.5H
The Simpatico Nightstand
SIG-017-062
34W x 18D x 29.5H
The Parisian Dresser
SIG-416-031
73.5W x 19.5D x 35.75H
The Parisian Dresser
SIG-416-032
73.5W x 19.5D x 35.75H
The Simpatico Dresser
SIG-017-011
80.25W x 19.25D x 32H
The Simpatico Dresser
SIG-017-012
70W x 19D x 34H
The Simpatico Single Dresser
SIG-017-021
50W x 19D x 38H
The Metamorphosis Bar
SIG-418-512
44.75W x 20.5D x 60.5H
The Metamorphosis Bar
SIG-418-511
44.75W x 20.5D x 60.5H
The Aristocrat Dining Table
SIG-416-201
98W x 50D x 30H
The Lifestyle Dining Table
SIG-418-201
112W x 49.25D x 30H
The Masters Dining Table
SIG-017-202
114W x 58D x 29.5H
The Meridien Dining Table
SIG-418-205
63 dia x 29.5H
The Naturalist Dining Table
SIG-017-201
98W x 44D x 29.5H
The Rose Dining Table
SIG-416-204
72 dia x 29.5H
Regal Dining Chair
SIG-416-271
25.5W x 25.5D x 40.5H
Sophisticates Dining Chair
SIG-416-282
21.5W x 25.5D x 42H
The Aristocrat Dining Chair
SIG-416-283
22W x 25.5D x 42.5H
The Cinay Dining Chair
SIG-418-281
23W x 23D x 32.5H
The Masters Dining Arm Chair
SIG-017-271
24.25W x 28.5D x 48H
The Masters Dining Side Chair
SIG-017-283
21.25W x 28.5D x 48H
The Olav Dining Chair
SIG-418-271
23.5W x 24D x 34H
The Regal Dining Side Chair
SIG-016-281
25.5W x 25.5D x 40.25H
The Urbane Dining Side Chair
SIG-017-284
21W x 25D x 37H
The Urbane Dining Side Chair
SIG-017-282
21W x 25D x 37H
The Urbane Dining Side Chair
SIG-017-281
21W x 25D x 37H
The Grandiose Credenza
SIG-416-211
78W x 20D x 39H
The Naturalist Buffet
SIG-017-211
80W x 20D x 35H
The Skyline Credenza
SIG-418-681
101.5W x 21.75D x 33.75H
The Abstract Side Table
SIG-418-4131
15W x 15D x 18.25H
The Arabesque End
SIG-416-414
26.75W x 26.75D x 24H
The Contempo Side
SIG-416-411
23W x 23.25D x 24H
The Contempo Side
SIG-416-416
23W x 23.25D x 24H
The Contempo Side
SIG-416-471
16.75W x 14.5D x 19.5H
The Contempo Side
SIG-416-472
16.75W x 14.5D x 19.5H
The Crossover End Table
SIG-418-411
29.5W x 29.5D x 20H
The Drink Table
The Evolution Side Table
SIG-418-412
18.5W x 16D x 19H
The Gem Side
SIG-416-421
17W x 16.25D x 20.25H
The InBloom Accent Table
SIG-016-420
15W x 15D x 24H
The Ladies Side
SIG-416-412
28 dia x 26.25H
The Naturalist End Table
The Naturalist End Table
The Rose Side
SIG-416-415
20.5 dia x 24.5H
The Sophisticated Side
SIG-416-413
20 dia x 24.5H
The Top to Bottom End Table
SIG-017-413
20W x 28D x 24H
The Trilogy Side Table
SIG-418-418
30.5W x 19.25D x 16H
The Trilogy Side Table
SIG-418-417
22W x 20D x 16H
The Trilogy Side Table
SIG-418-419
26.5W x 16D x 16H
The Anonymous Cocktail Table
SIG-418-405
37.75 dia x 14H
The Arabesque Cocktail
SIG-416-404
52.75W x 24D x 18.75H
The Flow Cocktail Table
SIG-418-407
48.25W x 26.5D x 14.25H
The Geo Modern Cocktail Table
SIG-418-402
40.5W x 29.25D x 15H
The Geo Modern Cocktail Table
SIG-418-401
59W x 39D x 16H
The Geo Modern Cocktail Table
SIG-418-403
48W x 35D x 15H
The Handsome Cocktail
SIG-416-403
50W x 50D x 16H
The Rose Cocktail
The Urbane Cocktail
The Urbane Cocktail
The Divergent Chest
SIG-418-055
35.5W x 13.75D x 60.25H
The Quintessential Chest
SIG-416-023
55.5W x 19.5D x 36.5H
The Teardrop Door Chest
SIG-418-057
39.25W x 17.75D x 64.5H
The Urban Chest
SIG-418-051
45.25W x 19.75D x 30.5H
The Arabesque Console
SIG-416-446
72.75W x 14.25D x 30H
The Axis Console Table
SIG-418-441
67W x 17.5D x 32.25H
The Cosmopolitan Console
SIG-017-441
72W x 13D x 29H
The Elements Desk
SIG-418-451
86.5W x 33.5D x 29.5H
The Evolution Console Table
SIG-418-443
72.75W x 19.5D x 33H
The Naturalist Entertainment Console
SIG-017-531
100W x 18D x 28.5H
The Naturalist Entertainment Console
SIG-017-532
75W x 18D x 28.5H
The Parisian Console
SIG-416-441
71W x 19D x 32.5H
The Parisian Console
SIG-416-443
71W x 19D x 32.5H
The Parisian Desk
SIG-416-451
62.5W x 27D x 30H
The Cosmopolitan Console
SIG-017-441
72W x 13D x 29H
The Metamorphosis Bar
SIG-418-511
44.75W x 20.5D x 60.5H
The Metamorphosis Bar
SIG-418-512
44.75W x 20.5D x 60.5H
The Metropolis Entertainment Console
SIG-418-531
98W x 19.75D x 20.5H
The Naturalist Entertainment Console
SIG-017-532
75W x 18D x 28.5H
The Naturalist Entertainment Console
SIG-017-531
100W x 18D x 28.5H
The Aficionado Cabinet
SIG-416-531
52.5W x 20.5D x 86H
The Cosmopolitan Bar
SIG-017-511
58W x 24D x 46.5H
The Arabesque Display
SIG-416-222
68.5W x 16.25D x 77H
The Connoisseurs Display Cabinet
SIG-416-221
57W x 19D x 83H
The High Tower Bookcase
SIG-418-261
39W x 16D x 84.75H
The Variety Bookcase
SIG-418-262
37.5W x 12.75D x 28.5H
The Madison LAF Chaise
SGU-418-LH1-A
67.5W x 45.25D x 31.75H
The Madison LAF Sofa
SGU-418-LS1-A
84.75W x 41.75D x 31.75H
The Madison RAF Chaise
SGU-418-RH1-A
67.5W x 45.25D x 31.75H
The Madison RAF Sofa
SGU-418-RS1-A
84.75W x 41.75D x 31.75H
The Madison Sectional
SGU-418-SEC2-A
152.25W x 45.25D x 31.75H
The Madison Sectional
SGU-418-SEC1-A
152.25W x 45.25D x 31.75H
The Aristocrat Sofa
SGU-416-015-C
108.75W x 40.5D x 29H
The Madison Sofa (Large)
SGU-418-013-A
102.5W x 41.75D x 31.75H
The Ribbon Sofa
SGU-416-013-A
102W x 35.5D x 34.25H
The Stardust Sofa (Large)
SGU-418-011-A
102W x 36.75D x 29.5H
The Well-Balanced Sofa
SGU-017-211-A
105W x 36.25D x 30.25H
The Well-Balanced Sofa
SGU-017-212-A
105W x 38.25D x 30.25H
The Night or Daybed Chaise
SGU-017-072-A
85W x 36D x 27H
The Tranquility Chaise
SGU-017-071-A
36.75W x 67.75D x 36.5H
The Aristocrat Chair
SGU-416-035-C
40.5W x 37D x 29H
The Comfort Zone Chair
SGU-017-034-A
49.75W x 51.5D x 33.25H
The Elemental Arm Chair
SGU-418-032-A
36W x 36.5D x 39H
The Gilded Chair
SGU-416-132-A
26.25W x 28.25D x 38.25H
The Gilded Chair
SGU-416-132-B
26.25W x 28.25D x 38.25H
The Gilded Chair
SGU-416-132-C
26.25W x 28.25D x 38.25H
The Lofty Desk Chair
SGU-418-034-A
26W x 23.5D x 33.5H
The Madison Chair
SGU-418-021-A
43W x 41.75D x 31.75H
The Melanie Arm Chair
SGU-418-033-A
29W x 29D x 29H
The Parisian Chair
SGU-416-131-A
27.25W x 30D x 37.25H
The Ribbon Chair
SGU-416-033-A
34.75W x 36.5D x 32.25H
The Svelte Chair
SGU-017-233-A
31W x 35.75D x 30.75H
The Svelte Chair
SGU-017-237-A
31W x 35.75D x 30.75H
The Svelte Chair
SGU-017-236-A
31W x 35.75D x 30.75H
The Svelte Chair
SGU-017-238-A
31W x 35.75D x 30.75H
The Svelte Chair
SGU-017-232-A
31W x 35.75D x 30.75H
The Sweet Spot Arm Chair
SGU-418-131-A
29W x 29.5D x 35.5H
The Well-Balanced Chair
SGU-017-234-A
38.75W x 38.25D x 29.5H
The Well-Balanced Chair
SGU-017-231-A
38.75W x 36.25D x 29.5H
The Comfort Zone Ottoman
SGU-017-041-A
46W x 25D x 20.5H
The Day Dreamer Bench
SGU-418-051-A
59.5W x 34.25D x 17.5H
The Fragment Bench
SGU-418-151-A
47.25W x 15.75D x 17.5H
The Jewel Bench
SGU-416-151-A
37.5W x 18.5D x 20H
The Well-Balanced Ottoman
SGU-017-242-A
26.25W x 24.5D x 17H
The Well-Balanced Ottoman
SGU-017-241-A
26.25W x 24.5D x 17H
The Contempo Starburst Mirror
The Contempo Starburst Mirror
The Galaxy Mirror
SIG-418-041
39.5 dia x 1H
The Solar Mirror